TCH Transport is committed to providing transport services with the best possible degree of professionalism and efficiency.The company, including all management and staff, are committed to seeing TCH achieve and maintain the highest possible standards.

To this end, TCH has undergone a rigorous investigation of all its business and management practices to identify and update any that did not meet the best international standards. This task has been done in close association with Esso, who have been happy to provide TCH with full support during this process.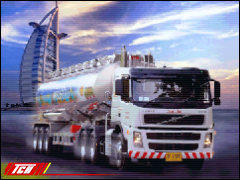 TCH now has its own set of policies covering the essential areas of Safety, Health, Drug and Alcohol use and the Environment. To ensure our staff will comply with our newly-stated policies.
To ensure our staff will comply with our newly-stated policies, TCH has completely upgraded its procedures for hiring new employees (especially drivers), employee performance appraisals, driver and staff training and safety incentive programs. TCH now has its own, fully-equipped training centre and does comprehensive training of all staff, including refresher courses in all safety procedures. more