Services ::
TCH Transport (1991) co.,Ltd

In 1991 ::
Siam City Cement gave TCH a contract to transport cement, tiles and sanitaryware products from Saraburi to NongKhai and also to Vientiane. This contract lasted for 7 years.
In 1992 ::
Esso gave the company a contract to carry fuel oil products from Bangkok to central Thailand areas, using a fleet of 7 full-trailers and 2 semi-trailers. human hair extensions uk
In 1995 ::
Esso supplied TCH with 5 semi-trailers, complete with aluminium tanks, to support the distribution of fuel oil in eastern Thailand. This continued for a period of 1 and a half years.
In 1997 ::
Esso gave TCH the contract to transport asphalt products from the Sriracha terminal throughout Thailand, with a fleet of 16 semi-trailers.
In 2001 ::
TCH had a new prototype rigid built for haulage of asphalt. This prototype was to test a new heating system that complied with international standards. TCH obtained a contract with Shell to test the system. This contract was extended and continues to this day.
In 2002 ::
Shell offered TCH a contract to deliver their PURA diesel product to the north and northeast of Thailand, with backup deliveries for central Thailand.
In September, 2002 ::
TCH gained a further contract, this time with Conoco Phillips. This contract is for an initial period of three years and covers the delivery of white oil products to Bangkok north and east, with some other areas as required.
In June, 2003 ::
TCH had also been asked to handle the delivery of fuel oil products for Shell (Thailand) for a contract they have obtained with EGAT in Krabi, Thailand. This contract operated by 25 semi-trailers for a period of four or five months.
Current Contracts ::
Provide white oil, diesel Pura and Asphalt transportation service to Shell Thailand.
Provide white oil transportation service to Conoco Thailand.

- Other Transport Work -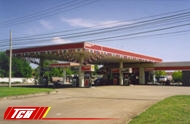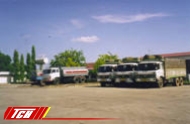 Laem Chabang Depot :: 3 Moo.10 T.Tungsukha A.Sriracha Chonburi 20230 Tel:038-491-206 Fax:038-491-207
2 semi-trailers, 1 full-trailer and 1 rigid truck carrying fuel oil products from the Saraburi and Lumlukka (Bangkok) terminals to NongKhai.
8 rigids trucks carrying cement and construction products plus consumer products from Bangkok to NongKhai and Vientiane.