Company History ::
TCH Transport (1991) Co. Limited was founded in 1991 by the Tanterdtit family, with the purpose to run and expand the transport operations of the family business. The existing business was operating under the name Tang Seng Hong NongKhai Co., Limited.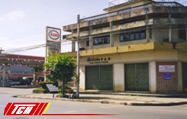 HeadOffice : 932 Prajack Rd. A.Muang Nongkhai
The Tanterdtit family commenced business in 1937 with a Mobil brand service station in the NongKhai province in northeastern Thailand. They purchased 2 rigid trucks to transport their own fuel requirements for the service station. This was later changed to 2 full-trailers. In 1947, this business was changed to an Esso brand service station. This was a result of the takeover of Mobilís operations in Thailand by the Exxon Corporation.
In 1950, the family obtained a contract to transport white oil from the Esso terminal in Udon Thani to Vientiane in Laos. They operated a fleet of 15 rigid vehicles for this contract. A further 5 rigids were added to the fleet when they obtained the contract to transport jet fuel from the same terminal to the American Air Force base at Udon Thani. The family continued to service these contracts for about 20 years, until 1970, when the American Air Force base was closed down.
In 1971, the family purchased another service station in Phonpisai, also in NongKhai province. It commenced as a PTT service station but later changed to TPI. The family also transports the fuel required for this service station. In 1985, Tang Seng Hong commenced transporting cement products from Saraburi to NongKhai and Vientiane. They also commenced transporting vegetables from NongKhai to Bangkok. In 1988, the company commenced transporting white oil from Bangkok to Vientiane, using 2 full-trailers. There were 2 trips per week for each truck. This continued for 3 years. There were no specific contracts during this period. Work was done by order.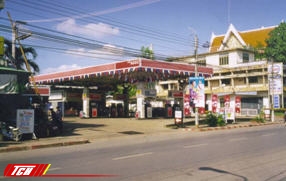 HeadOffice : 932 Prajack Rd. A.Muang Nongkhai
In 1990, the family opened another service station in NongKhai. This was another Esso brand station. This year, the company also started to transport consumer goods from Bangkok to both NongKhai and Vientiane. This was also by order, rather than by contract. The company continues to transport consumer goods to this time. As the transport side of the business was started to expand and diversify, it was felt that this part of the business should look for long-term contracts. To this end, the process to commence the TCH Transport company began.
In 1991, Siam City Cement gave TCH a contract to transport cement, tiles and sanitaryware products from Saraburi to NongKhai and also to Vientiane. This contract lasted for 7 years, finishing due to the downturn in the economy. Also during this year, Esso approached Tang Seng Hong to undergo a test project to evaluate the companyís performance. This test lasted for 3 months.
The result of this test was very positive. Esso then gave the company a contract to carry fuel oil products from Bangkok to central Thailand areas. This commenced in 1992 using a fleet of 7 full-trailers and 2 semi-trailers. A depot was opened in Saraburi to use for this contract and as a rest stop for the other trucks operating from or past Saraburi.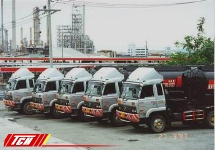 Semi-Trailers
In 1995, Esso supplied TCH with 5 semi-trailers, complete with aluminium tanks, to support the distribution of fuel oil in eastern Thailand. This continued for a period of 1 and a half years. The trucks operated out of the Saraburi depot. It was after this work that Esso gave TCH the existing contract to transport asphalt products from the Sriracha terminal throughout Thailand. This contract commenced in 1997 with a fleet of 16 semi-trailers. A new depot was opened up in Sriracha to handle this contract, this becoming the main depot for TCH. The Saraburi depot was closed a year later, the trucks moving to Sriracha. more