Emergency Response ::
TCH has its own Emergency Response plan. This consists of set procedures for reporting any type of incident and procedures for reporting these to our contract partner.
We have an emergency response team that undertakes regular practice at handling emergencies, either small or large, some of these being done in conjunction with our contract partner. We have set equipment that is taken on emergencies and appropriate vehicles for transport. Our incident notification guidelines are posted on a large board on the wall in our dispatch office where all incoming calls from drivers are received. This ensures that all will respond to the correct person.
We follow a very complete investigation process. This includes the use of videos and photographs to help review the incident. They are viewed by those involved in the incident as well as our entire safety team. All steps in the process are clearly documented to ensure its accuracy. human hair uk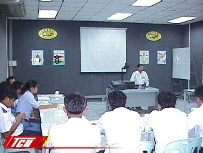 Lessons learned from each incident are discussed with our whole driving team so that all can benefit from this knowledge. Statistics are kept each month of all the important detail for our operation, and, together with the year-to-date figures, are discussed in the monthly Drivers Meetings we hold.